Hall's Complete Scuba Certification Course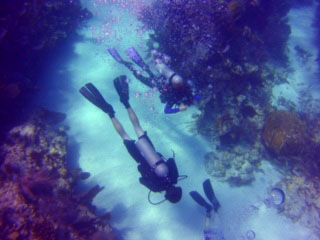 Duration: 4 Days (approx.)
Location: Marathon, Florida Keys
Product code: OWCOURSE1
Your Lifetime of Adventure Starts Here!
You are about to embark on one of the greatest adventures of your life!
Becoming a scuba diver marks the first step in a journey that will forever change the way you experience the world.
Being a recognized certified diver gives you a license to explore our last true frontier: the ocean
Scuba education from Hall's Diving Center is the best way to begin. Why? Our programs are designed with one goal in mind: for you to have
serious fun
when you dive! And the only way to have a great time diving is to become truly comfortable with the skills and equipment you'll use. At Hall's we don't want you to just learn to dive; we want you to love to dive. You'll love learning the Hall's way, because we make every step of your scuba experience fun!
There is a distinct difference between someone learning to dive and someone becoming "a diver for life".
Our highly skilled instructors make learning come alive with personalized instruction that will put your skills to use in reality-based training scenarios. Our unique approach to diver education is known as Instinct & Habit training. This ensures that your actions become second nature! We are so confident with our unique approach that we
Guarantee Your Comfort or Your Money Back
. If by the end of your Hall's Open Water Scuba Diving Certification Course you are not 100% comfortable diving, we will cheerfully refund back all your instructional fees. You only pay for reef trips, rentals,and materials.
The complete course from non-diver to certified diver consists of three sections.
These sections are:
Home Study, Classroom and Pool Sessions and Open Water Dives & Certification
Home Study
You will start your scuba education from the comfort of home. Once enrolled, you can begin your training online! And the fee's for the online course are included. The online course is a dynamic interactive learning tool. Once logged in, you can start, stop, begin again and review at your own pace. And our team of professional instructors will not only monitor your progress, but are available to answer any questions you may have as you progress. Additionally, who will have access to your digital materials forever!
Classroom & Pool Sessions
This is where it gets really fun! You'll take what you've learned and apply it in reality based instructional scenarios in the pool. Your personal instructor will help you select then fit you for your scuba equipment so that you become comfortable in your "second skin". Hall's ensures your satisfaction with your equipment purchases with our best price guarantee!
Open Water Dives & Certification
Once you finish your training, you'll complete 5 open water dives. During these dives you will combine the skills you learned in the pool while touring several of our tropical reefs. And we take your education further then the industries minimal requirements. Real world ocean dive techniques will be mastered. Our courses include compass navigation, advanced buoyancy skills, out of air deeper water drills, dive buddy assists, shore and boat diving procedures. Upon completion you will be awarded an internationally recognized certification.

Duration
The majority of our customers will be able complete the classroom, pool and open water sessions in about 3 to 3 1/2 days. The first day of your class will take place at the pool. That session will run about 8hrs. The following two days will include some classroom work and your open water training dives. The remaining 1/2 day provides remediation time and completion of your certification documents. In some cases, it may require additional training sessions for you to complete all the requirements for certification. Our instructors will be assessing your performance as you progress through the course. It is important that you are on time and attend all sessions. If you miss any sessions, or unable to participate, additional fees may apply.
Requirements:
Minimum Age:
You must be at least 10 years old

Equipment:
You must provide your own mask, snorkel,open-heel power fins, booties and gloves. All these items except gloves are available to rent. If you decide to purchase these items please wait until you arrive to
make this purchase so that our instructors can provide a custom fit.
Your use of scuba gear, wet suit, tanks and weights are included in the course fee along with on-line training materials, digital log book, instruction, and your reef trips.
You will also need to provide some personal items like bathing suits, towels, sun screen, sunglasses, etc. etc.

After years of providing this type of training here in the Florida Keys we have found that due to environmental factors associated with scuba diving it is recommended that you also bring with you Swimmer Ear Drops, Sea Sickness Prevention Medication and a decongestant. This will help ensure that you will remain healthy whilst training.

Medical Concerns:
When you make your course reservation a Medical Information and Approval form will be provided to you. If you have any conditions which might be contradictory to your safe participation in diving, you will need approval by a physician. If you do not have any contradictory conditions, bring the filled out medical questionnaire with you the first day of class. If you are in doubt whether or not you must seek a physicians approval, see one anyway to be on the safe side.